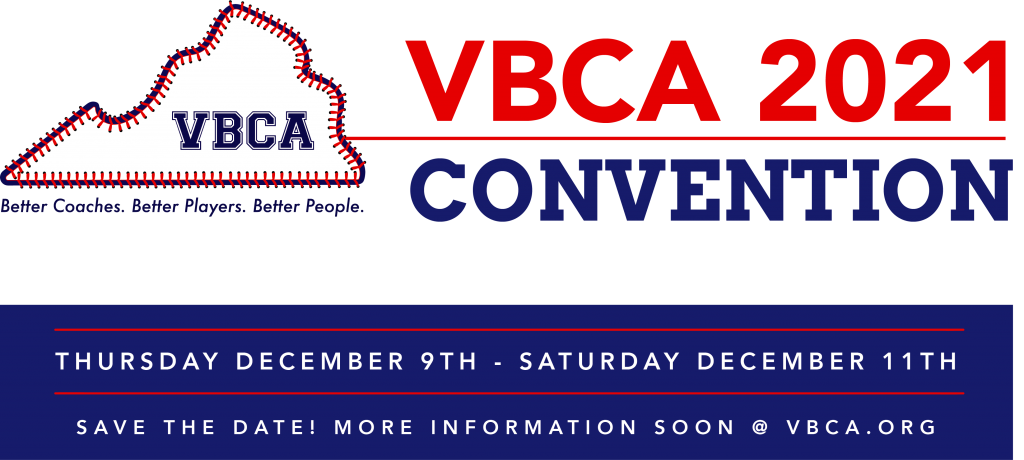 On Deck: Virginia Baseball Coaches Association Convention Returns Dec. 9-11
RICHMOND, Va. (August 10, 2021) – The Virginia Baseball Coaches Association today announces its third annual convention will take place Dec. 9-11 at Tuckahoe Sports Incorporated in Richmond.
After two successful in-person conventions, the VBCA elected to conduct a virtual conference in January.
"One of the main objectives of the VBCA is to provide a format for coaches at all levels to come together to network, share and learn from each other," said Tim Merry, executive director of the VBCA. "The beauty of these conventions are the connections that are made that turn into practice visits, scheduling opportunities, new friendships and maybe even new jobs."
Tuckahoe Sports Incorporated (TSI) will host the event this year, which is a departure from the previous conventions that were held in hotel settings (Charlottesville and Williamsburg, respectively), as the VBCA strives to incorporate more hands-on training and learning.
"We have a regulation-sized infield that will serve as our presentation and demonstration areas along with hitting cages, mounds and a strength and conditioning area," said Chris McKnight, vice president of TSI. "Speakers will have the option of complementing a slide presentation with actual demonstrations in any of these areas. Learning is enhanced when drills are demonstrated in addition to being presented."
The convention kicks off on Thursday evening Dec. 9 with a skills and drills clinic hosted by local coaches and an opening night reception. Presentations will begin early Friday morning and run throughout the day. The convention will continue with sessions throughout the morning and early afternoon Saturday. Lunch is provided Friday as part of the registration fee.
"It's the best deal in town," Merry said. "Coaches should bring their families, get some shopping done and enjoy the holiday atmosphere and RVA environment together."
A dozen presenters already have committed, and the complete lineup of in-state and coaches from around the country will be revealed in the fall.
Registration for the Convention will begin in early October and is available to members first and then non-members based on space and availability (members receive a discounted rate to attend the convention). The Hyatt House at Short Pump, the host hotel, will have special rates for convention attendees. Annual memberships for the VBCA are $25 for an individual and $100 for a staff of five and are available at https://vbca.org/signup-renew/
* * *
About the Virginia Baseball Coaches Association
The Virginia Baseball Coaches Association unites, educates, develops and supports baseball coaches and amateur baseball in the state of Virginia, resulting in better coaches, better players and better people. The Virginia Baseball Coaches Association is incorporated for charitable purposes within the meaning of Section 501(c)(3) of the Internal Revenue Code.